Milly Victoria Suede Clutch, $230. Milly Victoria Leather Crossbody, $285. Both via ShopBop.
It's so easy to become completely jaded to the prices of handbags after you've been buying them for a couple of years, but when you stand back and look at it, a grand or two for a handbag really is an enormous amount of money, objectively. When you consider that even most big brands are assembly-line produced in a way not dissimilar to how much less expensive bags are made, an occasional bout of price frustration is not only understandable, but probably indicative of a healthy mental state.
When that happens, it's nice to take a moment and remember that there are brand like Milly out there, making very stylish bags with price tags in the low three-figures. The Milly Victoria Bags are just the latest in a string of successes for the brand's neophyte handbag line, and they're very much worth noting. (more…)
Images via Moda Operandi
VBH bags, much like Hermes, are the kind of designs that I don't really need to review. The brand turns out functional ultra-luxury masterpieces that are consistently breathtaking, and if you're a fan of the classics, you're probably a fan of what VBH does. If you're not, you've probably stopped reading already anyway, if you even started. With that in mind, I'm going to skip the "Are these good, or do they suck?" portion of my standard spiel.
So let's just say that VBH's Spring 2012 Moda Operandi pre-sale is happening through November 4th, with bags ranging from $1800 for a clutch to $17500 for a pristine white crocodile satchel. As always, Moda Operandi is members-only, but we've got the full gallery of presale offerings after the jump so that even non-members can start planning their upcoming purchases (or, you know, just drool over the pretty stuff). (more…)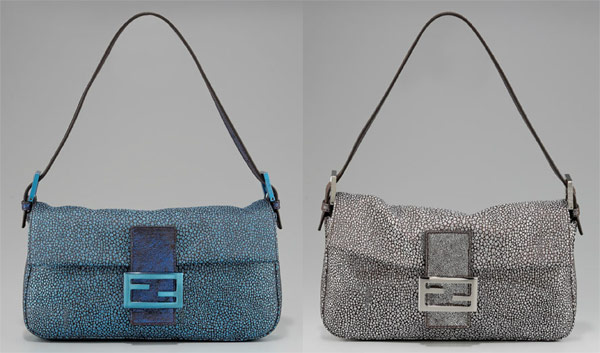 Fendi Cracked Suede Baguette, $990 in blue or silver via Bergdorf Goodman
For an entire generation of women (of which I'm a part), the Fendi Baguette was the first It Bag to penetrate our collective consciousness. Indeed, many fashion people count its popularity as the dawn of the entire It Bag concept, and I probably have its existence to credit, at least in small part, to my current employment. In handbag history, the role of this little Fendi bag can't be overstated.
Like anything, though, the heady days of Sex and the City passed and the Baguette fell out of favor to make way for the Chloe Paddington, the Fendi Spy and all the other must-have, "ungettable get" bags that followed. The fashion industry is endlessly cyclical, though, and eventually everything old is new again. Nearly 15 years after its launch, is it time for the Fendi Baguette's second act? (more…)
We have some very exciting new to share on this Friday afternoon! Start at the beginning of next month, you'll now be able to put your American Express away and use your Visa or MasterCard in Neiman Marcus retail store. If you, like me, have ever felt the slight burn of shame when it comes time to pay for a purchase and you realize that you don't have your AmEx on you that day, this will surely be good news.

NeimanMarcus.com has long accepted a variety of credit cards, as have Last Call outlet locations, but brick-and-mortar main line stores had resisted coming on board until now. To me, this feels like a long time coming. In a rough economy, why turn down potential sales? Remember: If you need some help being patient until you can shop in stores, NeimanMarcus.com is always open.

Chevre de Coromandel – Black Crocodile Birkin 35cm GHW – Turquoise Swift Birkin 30cm PHW
Be still my heart. Some of the promotions I work on are both sheer joy and total temptation, and the Madison Avenue Couture Hermes Rue La La boutique is a perfect example of this. Starting today at 11 AM EST, RueLaLa.com an incredible selection of over 60 Hermes bags from around the world for sale. Over 70% of the bags are highly coveted Birkins and Kellys in materials varying from crocodile and ostrich to lizard and more. Included in this allotment is a never-before-carried black crocodile Birkin, and I think you ladies all know how coveted those are. If the bags are not what you are looking for or aren't in your price range, there will be a selection of scarves, jewelry and accessories (like the Clic-Clac bracelet).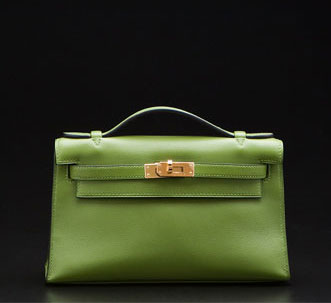 We (and you) are very lucky because we can show you these bags before the boutique opens so that you can begin your strategic planning. Figure out what it is that you want/need and get your purchase fingers ready. This is a boutique you will not want to miss!
When it comes to ensuring that your belongings don't get soaked in a sudden downpour, your pickings are slim. Go ahead, Google "waterproof handbags." I'll wait! See what I mean? Nothing but a bunch of camping equipment, which means that you should always carry an umbrella if possible. That doesn't mean, though, that all regular handbags are created equal when it comes to inclement weather. Far from it, in fact!
We've got three suggestions for three different personal styles, but this is the important stuff to remember when you're getting dressed on a rainy day: Make sure it closes all the way, make sure it's big enough to hold an umbrella and make sure you won't weep if it gets ruined. Those are the rules, ladies. I don't make them, I just share them. (more…)
Lanvin Gypsie Straw and Snakeskin Tote, $2190 via Bergdorf Goodman
When a bag is as popular as the Celine Luggage Tote, it's only logical that other brands will try to stand in the reflected glow of the design's success by debuting bags that share certain characteristics with the one that everyone wants. This practice is as old as time, and it's how trends in size, shape and color start. As long as the reinterpretation is reasonably original, it generally doesn't bother me as a consumer.
Even with that in mind, though, I was surprised to see the Lanvin Gypsie Straw and Snakeskin Tote in the Resort 2012 pre-orders at Bergdorf Goodman. Lanvin tends to be a brand that shirks most trends in favor of its own brand of Parisian chic, so even though I don't have a philosophical problem with the existence of this bag, I didn't think I'd ever see it. (more…)
Y'all, I am freezing. Vlad and I are in Ohio for an alumni weekend filled with a little swimming and Ohio State football and all I can think about it how utterly cold I am. The multiple layers aren't cutting it and it is only in the mid-40's. This Florida girl is a true Florida girl.
When I spotted the Tory Burch Fur Hobo on ShopBop, I felt a slight sensation of warmth come over me. It was short-lived, but it happened, and for that I am grateful. You know why else I am grateful? This bag is seriously stylish and that can't be said for many fur bags (check out our six worst fur bags for fall). (more…)
Finally! We now have our PurseForum app for iPhone, iPad and Android – and it's free! The app makes browsing and posting on PurseForum much easier and more seamless than ever before. If you are as addicted as we are, this app is for you. And for all photo junkies, you can now upload photos directly from your phone/iPad to PurseForum as well.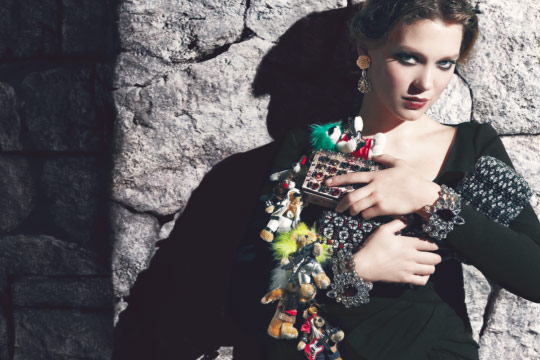 Images via Fashionista.com
Handbag lovers often get the shaft on the runway, but when it comes time to move some product and keep the company in the black (namely, ad season), brands are all about giving us lots of pretty pictures of exactly what we want to see. If you needed any convincing of that fact, just take a look at Prada's new Resort 2012 ads from the lovely ladies of Fashionista.com.
The shots, featuring model Lea Seydoux, at times literally feature more clutches than one person can hold. There's great variety among the bags too – bright exotics, ruched leather flap bags, bejeweled box clutches. If you don't look closely, you might miss a great piece, but don't stop at the bags. Prada's brand new jewelry line, launching next month, is also represented heavily. And are those a couple of Prada Bear Bag Tricks that I see? More photos and a behind-the-scenes video, after the jump. (more…)
Halloween is, by far, my favorite holiday. Everything about it – the brightly colored wigs, the over-the-top makeup, the elaborate costumes, the slutty hosiery and shoes – appeals to my inner drag queen, and ladies, my inner drag queen is especially glittery. When you combine those tendencies with my penchant for black and my preexisting love of fun size candy, Halloween and I are like a match made costume-closet heaven.
I still have no idea what I'm going to wear this year (I have a green wig. Give me ideas based on that in the comments. This is a serious request.), but I do have a few ideas on what everyone should be carrying in order to properly embrace the Halloween spirit. Whether you're attending a swanky costume ball (I wish) or a kegger at your friend's sketchy apartment (slightly closer to reality), I have assembled a group of bags to keep your hands and arms occupied, both on Halloween and well beyond. (more…)