When I started PurseBlog in 2005, I owned 2 bags. My love of handbags has been with me from a very young age, but my collection didn't start to expand rapidly until after this site was already up and running. As a biproduct of having carried so many different bags in that time, I've learned not only about the intricacies of the purses in my collection, but also what I think makes for a good bag overall. To share the results of our trials and errors, we're introducing a new category to PurseBlog, Purseonals.
Amanda and I will get purseonal with our readers and share honest reviews of the bags we own and rate them on our Purseonals scale. We've come up with the five major categories within our rating system: Aesthetics, Usability + Functionality, Quality + Construction, Value, and Staying Power. Find out how we define our categories!
Images via Vogue.com
I always feel good about buying a Balenciaga Motorcycle Bag for a couple of reasons, first and foremost because I've loved every one that I've ever owned. Almost as important, though, is that the overwhelming retail success of those bags makes it possible for Balenciaga creative director Nicolas Ghesquiere to do what he does without quite as much pressure to make a collection that will sell well at retail. He does his best work when he's at his most conceptual, and conceptual clothes are usually not retail darlings.
I'd encourage all of you to take a look through the entire Balenciaga Spring 2012 collection because, let's face it, Ghesquiere is that good, but you'll get an idea of what was going on just from the bags. Half were ultraminimal two-tone shoulder bags and boxy shapes, and the other half were the kind of smallish bags that we've come to expect from the accessories industry in general, but with a very Balenciaga twist. Straps and buckles jut out from spots where you don't expect, creating a counterintuitive look that still functions as you think such a bag should. (more…)
Follow our Instagram photo stream, username: purseblog
One of our favorite designers (and new mommy to a baby boy), Rebecca Minkoff, will be running her first print ad in October's debut issue of Style.com Magazine. Always ahead of the curve, Rebecca Minkoff has decided to turn to her fans to help create the ad by submitting Instagram photos of their Rebecca Minkoff items.
To make sure the RM team sees your entries, simply tag every photo on Instagram that you want to enter with #RebeccaMinkoff between now and October 1. I am already taking photos (shown above) and hope to see many of you participate as well. Some of their favorite entries will be included alongside professional shots of accessories and her Resort 2012 collection.
Also, make sure to follow our photo stream on Instagram, username: purseblog.
What if I told you that on Saturday, all you have to do is show up at a Neiman Marcus store with your smartphone for a chance to walk out with a free crocodile clutch from the crocmaster herself, Nancy Gonzalez? Believe it or not, that's what's going to be happening at an NM near you this weekend, according to Mashable.
If you don't have a FourSquare account, you might want to get one, because that's how you'll enter the Neiman Marcus Nancy Gonzalez Scavenger Hunt at one of 15 Neiman Marcus locations this weekend. We've got the details, plus some info about the other 41 Nancy Gonzalez clutches that Neiman Marcus will be giving away during the event, after the jump! (more…)
I cannot begin to imagine the frustration Joy Gryson and her company must feel over seeing a very similar brand name pop up and cause brand confusion. Many have thought Olivia & Joy is a new offshoot by Joy Gryson, but it is not. Do not be confused, there is absolutely no affiliation, and we wanted to help clear up any confusion that buyers might have. (more…)
Images via Vogue.com
I need to have a moment of honesty here: I know it's been a couple of weeks since London Fashion Week, but I completely forgot that I had these photos from Matthew Williamson Spring 2012 to show you. Williamson isn't known for his bags, but I adore his sense of color and pattern so thoroughly that I wanted to put them up for discussion anyway.
As his his wont, Williamson went a little bohemian with his handbags for the runway show, and the two intricately detailed clutches are of particular note. They're big enough to be carried to a daytime event but still special enough to go to a nighttime pool party in the warmer months. If you're looking for a true day bag, I hope you like fringe, because Williamson has it by the fistful. On the opposite end of the spectrum, Williamson also included a few of Charlotte Olympia's perspex clutches on the runway. (She also made the excellent shoes that he showed with the collection.) (more…)
They are as follows: 1) Fashion-forward appearance 2) Protection from anyone or anything at anytime.
Have you ever seen a bag with studs implemented in the way Christian Louboutin did on his Artemis Python Shoulder Bag? Because I have not. In fact, this bag both intrigues me and worries me.
First off, I wonder about the reasoning for naming this bag the Christian Louboutin Artemis Studded Python Shoulder Bag, as Artemis comes from Ancient Greek Mythology. The daughter of Leto and Zeus, and the twin of Apollo, Artemis is the goddess of the wilderness, the hunt and wild animals, and fertility. So this bag's gorgeous body and skin represents the beauty of Artemis while the massive spiked studs symbolize her being a huntress. (more…)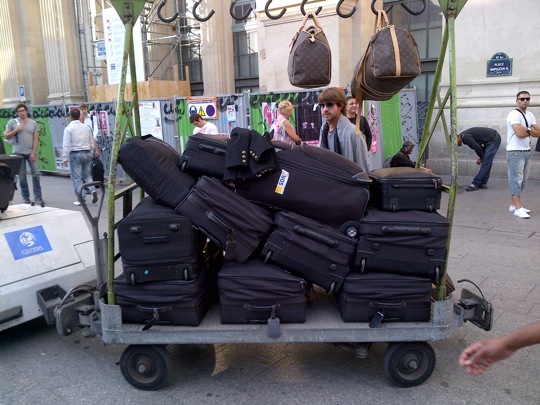 Photo via Fashionista.com
As if we ever expected anything less from superstylist and brand new mommy Rachel Zoe. That's eleven suitcases and two Louis Vuitton bags, for those of you who are keeping score at home. At first, this seemed like an outrageous amount of luggage when we saw the photo on Fashionista, but is it really? Let's do the math. (Also, take note: These are real suitcases, not fancy, flashy kind. Real travelers know when the utilitarian luggage is warranted.) (more…)
Images via Vogue.com
Perhaps improbably, Marni is always one of the handbag collections that I look forward to the most during Milan Fashion Week. The brand doesn't have a reputation in the accessories world as a purse powerhouse, but I love Marni's signature blend of girlishness and modernism. The end result is usually some great accessories that will withstand both the passage of the season's trends and the passage of time, leaving you with a unique bag that people will ask about for years to come.
If you'd like to add that sort of accessory to your closet this season, you'd be well advised to go with one of the three-dimensional woven bags from Marni Spring 2012. Different fabrications and sizes of leather were woven together to create a pattern that looks a lot like tactile plaid, and the end result is kind of mesmerizing. Part of me would like to take one apart to see how it was constructed, but the rest of me would much rather tuck these bags safely away in my closet. All of them. Right now. (more…)
I know you come to us to see the latest and greatest in the designer handbag world, but sometimes there are trends that simply do not work and are so ugly that they are asking to be called out. For this fall and winter season, many designers brought both real and faux fur to their collections. The bad news is, most of the renditions fell short of our fashionable expectations.
I have compiled six of the worst fur bags for fall, because a what the hell were they thinking post is the perfect midweek pick-me-up. Sit back, sip your coffee, avoid other necessities in your life, and laugh at these atrocities. (more…)