I love colorblocking. I love the way the seemingly simple trend took over the fashion world quickly and had everyone feeling like some novel idea was introduced in a ground-breaking manner. Yet the trend works so well on everyone, showcasing solid colors paired together to give a sleek yet bold look. The handbag world has taken to the trend as well, with many designers releasing versions of the trend that they believe will get people buzzing. But as always, some do it in a way that draws us in, and others totally miss the mark.
Chloe missed the mark with its Gabby Bucket Bag and its sister bag, the Chloe Gabby Mixed-Snakeskin Duffel is just as bad, if not worse. (more…)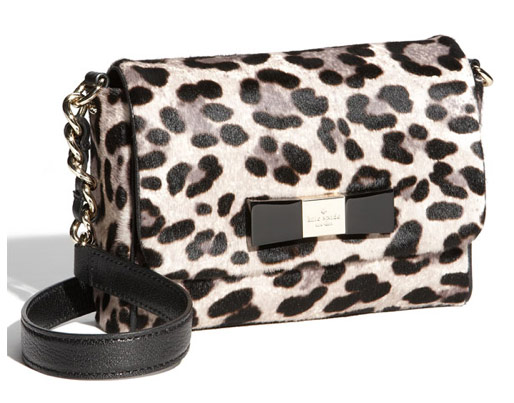 Kate Spade Crown Point Sasha Shoulder Bag, $495 via Nordstrom
Maybe it's always been this way and I just don't remember it, or maybe the advent of leopard print as a trend has changed prices a bit, but calf hair is expensive. Monetarily, it's positioned as a semi-exotic; it costs more than regular leather but a bit less than a brand would charge for it's lowest-tier exotic leather. In layman's terms, that's means it's kind of spendy.
Some contemporary brands use the material, of course, but many of them choose to go with printed suede when it comes to leopard because it provides texture without jacking up their materials costs. And that's why I love the Kate Spade Crown Point Sasha Shoulder Bag; it uses calf hair in a very of-the-moment way without passing the extra cost along to the company's customers. (more…)
If you're here reading this, odds are that you've spent thousands of dollars on handbags and accessories in your lifetime, but how well do you understand what goes into making them? I'm betting that most bag lovers have only a vague idea at best, but wouldn't it be fun to be able to take a peek behind the curtain?
Thanks to an excellent series of videos of Neiman Marcus's blog, we can do just that with the famous Marc Jacobs Stam as our guinea pig. The four clips take us all the way from conception to manufacturing, and all of the important details of realizing an idea are there, from making the patterns to dying the leather to bending the metal for the Stam's signature frame. My favorite video is the fourth one, above, which shows how the Marc Jacobs bag is actually assembled. You can check out the first three after the jump and view the original posts at Neiman Marcus Daily. (more…)
We don't spent a great deal of time discussing wallets around here. That's not because we don't love them – we do! – but bags do a fine job grabbing all of the spotlight, leaving wallets and other small leather goods with little attention to share among themselves. And that's silly, because those pieces are just important to our everyday lives as bags are.
In the spirit of reminding ourselves of exactly that, let's take a look at the three wallets, in three very different price ranges, that I'd love to be pulling out of my bag for the season ahead. No matter if your budget is tight or extravagant, your wallet can be just as chic as you are. (more…)
We aren't known to be the biggest Versace supporters at our site, but we've been feeling a it warmer lately. I know some people absolutely love the brand, but Donatella's accessories almost always go over the edge of overt opulence; they're often too ornate for my liking. However, upon seeing the Versace Structured Snake-Effect Leather Tote I felt true excitement. Sure, the overall design is simple, but the python print along with the coloring screams "fall statement piece." (It also sort of screams "Valentino Fall 2011," but that's another post entirely.) The sad news is that PurseBloggers, we have a problem: the price.
When the description read snake-effect and the price showed $3,995, I was certain there was a mistake. A mistype, perhaps? But no, this bag's faux finish is printed on leather; it's not exotic python skin. And no matter how much I want to tell you all that Versace is getting it right, the brand is still getting its prices all wrong. (more…)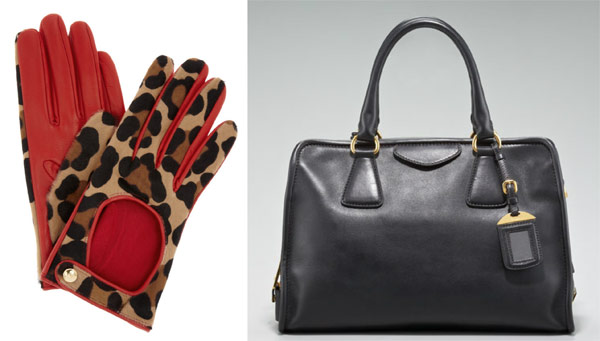 Agent Provocateur Leopard Print Calf Hair Driving Gloves, $500 via Net-a-Porter. Prada Calfskin Tote, $2500 via Neiman Marcus.
Good news: Megs and I have returned to Manhattan! Bad news: We're still getting back up to speed, so things will be a bit slow today and then totally back to normal tomorrow, and we hope that readers who were affected by the hurricane are also well on their way back to normalcy. For now, though, I'd like to spend a moment touching on my aversion to black bags.
Black, as a color, is one of my favorites. It always has been, even during childhood when most little girls fawned over pink; when everyone else in my first grade class had a pair of white Keds, I had black ones. But now, because I wear so much black clothing, wearing black accessories and shoes just feels really…dull. Even a black bag as beautiful and functional as the Prada Calfskin Tote can't make it into my wardrobe without a good game plan for spicing it up. I think that the Agent Provocateur Leopard Print Calf Hair Driving Gloves would do just the trick for fall. (more…)
As I mentioned earlier today, Megs and I are firmly planted in a Pennsylvania hotel room and we're not coming back to New York City until all of the subways are running again. It's actually been a nice break from the hectic city pace, but there's one very clear downside: The hotel doesn't have Bravo. Also, I forgot my laptop charger in my haste to escape from New York, so I have to make this quick.
Andy promised that last night's episode of Real Housewives of New Jersey would be great, but sadly, I have no idea if that turned out to be true or not. I do know that watching the VMAs makes me feel absolutely ancient at all of 25 years old, because the hotel did happen to have MTV and I didn't know who half of the people on it were. Anyway, feel free to discuss Real Housewives, the VMAs or how bloated you are from eating all of your storm supplies in the comments. (more…)
LeSportsac Soft Train Case, $144 via Zappos
So here's the deal, cats and kittens. As you guys know, Megs and I are based in New York City, but we both come from places that have had severe hurricanes in the past. With the warnings about Irene at the end of last week, we figured that discretion is indeed the greater part of valor and we got the heck out of the city. As a result, we're sitting in a hotel room in the Lehigh Valley right now, as we have been for a few days. That makes doing any meaningful amount of work tricky, so until we get back tomorrow night, things might be a little slower than normal around here. We appreciate the patience.
New York seems to have dodged the worst of the storm through nothing but sheer luck, but our little Pennsylvania adventure still brings up an interesting question: What do you bring when you've got a short-notice, high-pressure weather situation bearing down on you? In my case, I brought the LeSportsac Soft Train Case. Except I didn't take a train, I took a bus. Tangentially related: I really don't recommend ever going to the Port Authority Bus Terminal in New York if you can avoid it. (more…)
I never shared my experience of the Salvatore Ferragamo Resort 2012 show with you. Shame on me because it was drop dead gorgeous, the kind of gorgeous that made me pinch myself to see if what I was experiencing was a dream. Held at the James B. Duke Mansion, this was the first time Ferragamo has shown in NYC and many celebrities and fashion insiders were in attendance. The paparazzi were out in full force trying to photograph the likes of Eva Mendes, Emma Roberts, Minka Kelly and more. I thoroughly enjoyed the celebrity spotting as well, but the show itself was what I was there for and it was breathtaking.
When the music began, the models began their walk through the mansion and the collection reminded us that resort is all about chic. Blue, white, and silver took over the runway and for twenty minutes I forgot where I was and was transported to the resort world of Ferragamo.
(more…)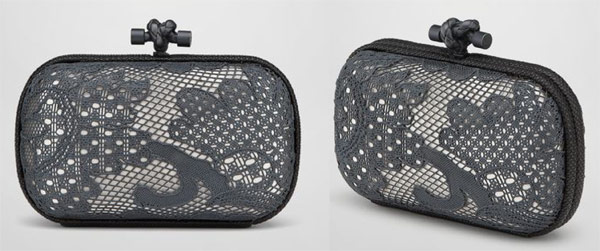 Bottega Veneta Metal Lace Karung Knot Clutch, $3980 via Bottega Veneta
One of my favorite parts of fashion is the gift of imitation. I remember being blown away by the pleats printed on the flat skirt of a Prada dress when I was younger, and the ability to trick the eye and make something expected out of something totally unexpected is one of the best visual treats you'll find. It's the kind of creativity that reminds us all why we pay these prices.
That's exactly the kind of reaction that I had to the Bottega Veneta Metal Lace Karung Knot Clutch when I first saw it. On initial visual inspection, it just looks like regular black lace overlaid on a cream-colored fabric; a nice clutch, but not a particularly fascinating one. The reality, though, is much more interesting. (more…)