Photos via Women's Wear Daily
It would be easy for a brand in flux to get a little bit lazy with its accessories for a resort collection while new creative talent got comfortable and plotted a new course for upcoming collections, but Chloe Resort 2012 doesn't strike me as lazy at all. When creative director Hannah MacGibbon was shown the door after a disappointing collection for Fall 2011, I assumed that the earliest improvements would probably be seen on the Spring 2012 runway. Perhaps that's not the case.
Chloe's resort bags aren't revolutionary, but the have a cleanness and confidence that the brand's previous several accessories collections have lacked. And while there's a Paddington reboot in the mix, a habit of the brand that tends to irk me, the bright pink and minimal Paddington markings mean that, at the very least, it actually feels like a genuine reboot instead of a cynical cash grab. I'm suddenly feeling a lot more excited about Chloe's upcoming spring show. More photos after the jump. (more…)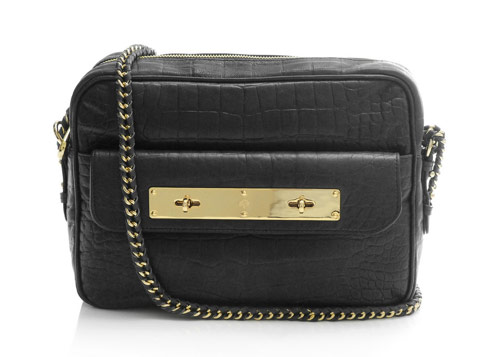 Mulberry Carter Camera Bag, $1220 via Matches
Mulberry just kind of has a knack, you know? Somehow, the brand's creative minds know how to take traditional, classic bags and tweak them just enough to make them covetable, young and modern. I honestly have no idea how they do it, but after a few seasons of contemplation, I've come to the conclusion that the brand's sense of visual editing is among the best in the business.
The Mulberry Carter Camera Bag bears that out, and I've seen a few fashion outlets already decide that the design is the brand's new Alexa. I'm not ready to make that designation until we see how consumers start to react at the cash register, but I will say this: When I first saw this bag being worn (in dove grey with dark silver hardware) by Kate Bosworth, I was pretty sure it was Chanel. That's not faint praise. (more…)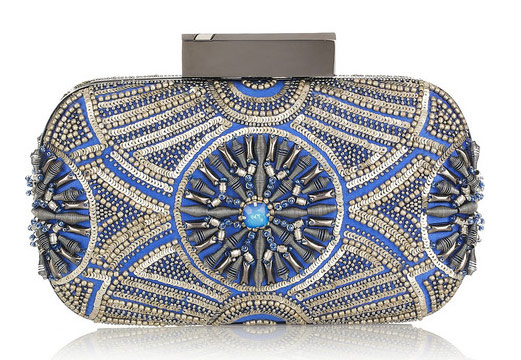 Matthew Williamson Embellished Satin Clutch, $1610 via Net-a-Porter
Judith Leiber bags are undeniably beautiful, but it's also hard to deny that they skew to a certain customer – older, well-established women with a penchant for straight-up glitz. Leiber's done extremely well with that demographic and they wouldn't dream of going elsewhere for a small, sparkly evening bag, but what of the women who want something that's as modern as it is tiny and detailed?
That's where the Matthew Williamson Embellished Satin Clutch comes in. This bag has all of the intricacy of a Leiber minaudiere with none of the bold shine, opting instead for a matte look that will likely appeal to women who want a slightly younger feel. (more…)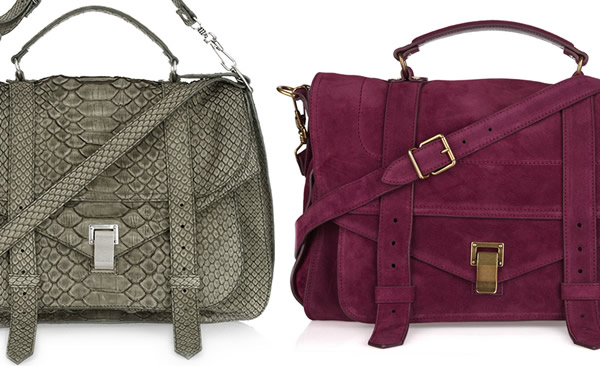 Shop Proenza Schouler via Net-A-Porter
Today Vlad and I traveled down to South Florida for a much-needed vacation. We plan to spend this time flopping from the pool to the beach with drinks in our hands, but I couldn't go to bed without sharing a sneak peek I received in my email today. Our friends at Net-A-Porter know how much we love Proenza Schouler bags and decided to give our readers an exclusive look at two new PS1 bags hitting their virtual store today.
From a gorgeous wine hued suede to a luxurious brushed python, I find myself yearning for each of these bags. (more…)
Wonder what bag Shontelle has been sporting the past few weeks? It is her new Free Endearment Julie Combination Color Bag. Shontelle tweeted about this bag last week and if you enter this giveaway you could be wearing it as well in the next few weeks.
Retailing for $275, the Julie Color Bag features geometric lines in different colors. The dimensions are large, 16″ x 18″ x 3″, so this can easily be your go-to bag. There is a secret front pocket and the inside features ample pockets for all of your storage needs. Click to find out how to enter!
fill in the blank fun.
Amanda and I have been racking our brains trying to figure out what to write about this past week. The fashion world is in a lull as preparations for fashion week are finalizing and stores are starting to shed their spring collections and bring in anticipation of fall and winter, which means that there's little relevant stock to be discussed. That is why this week is perfect for seven days of giveaways and a little
Animal prints will never go out of style. Some seasons a different print reigns supreme, but the idea as a whole is here to stay. Newbark not only understood this but also knew that many of us get stuck on which print to buy, which is perhaps why it designed the Newbark Animal-print Calf Hair Pouch with half leopard print and half snake print.
(more…)
Economic problems? Debt ceilings? Political tensions? What are those things? The luxury industry has surely never heard of them, if double-digit sales increases from LVMH, Hermes and Burberry, just to name a few, are any indication. The rich only get richer, naturally, and when they do, they buy clothes. Lots of clothes. And handbags. Louis Vuitton is even reporting waiting lists, a thing that most pundits seemed to think would never be seen again after the economic crash of 2008.
And yet, I put my name on a waiting list myself at the beginning of the year in order to wait for the apparent privilege of buying a bag that cost nearly $2,000. Having been in college during the rococo days of the mid-2000s, the opportunity to queue up to buy an It Bag like the original Chloe Paddingtons and Fendi Spy bags passed me by while I stared in envy at the people who were buying their way into the "ungettable get." Are we headed back there again? (more…)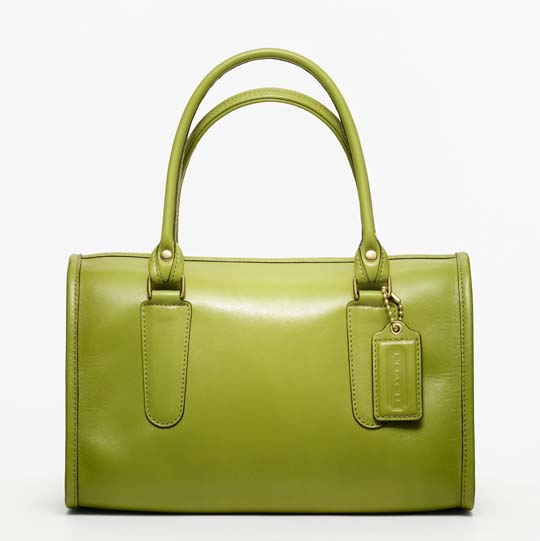 Photos via Coach
We all know that I'm not exactly the kind of girl who's happy with a closet full of black, tan and chocolate brown bags. I need variety! I need color! I need chartreuse and coral, if possible! Not to mention that a classic shape with a crazy color is just about the freshest thing going in handbags right now. It's wearable, it's modern, it's bold – what's not to like?
Obviously Coach knows this stuff, so the Coach Classics Collection that everyone was excited about last month has gotten its second wind, this time with fun new colors like lime green, watermelon pink and ivory. (I don't have a cute fruit description for ivory, so just go with it.) I'm going to continue to wait for the small crossbody to come in colors that aren't already represented in my bag wardrobe, and if you'd like to find out if you'll be doing the same, check out the new options after the jump. You can pick up these bags via Coach.com. (more…)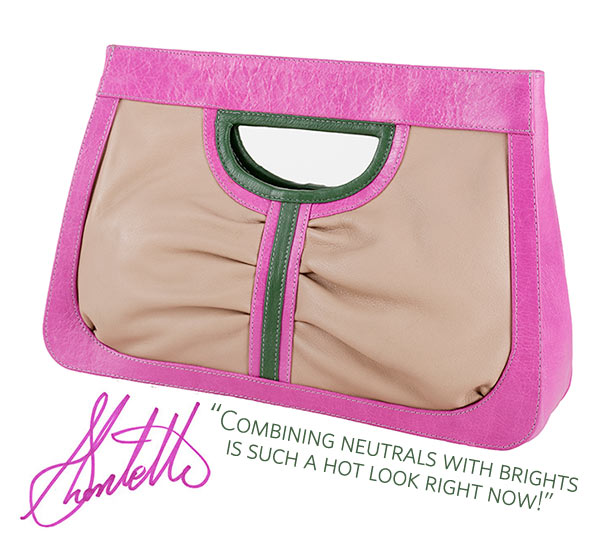 I have a little secret, today's bag in our Free Endearment + Shontelle giveaway is one of my favorites. Completely on-trend, a bit of bright pink and green colorblocking looks amazing against neutral leather.
Today we are giving away the Free Endearment Corinne-Bone/Green/Pink Clutch. Priced at $265, this clutch will amp up any outfit. Dimensions are rather spacious, 9″ x 14″ x 3″. Like other Free Endearment bags, usability is key as this bag offers flat and zipper pockets on the front and back interior wall of the bag. Colorblocking remains a huge trend and this clutch will fit right in. Click to find out how to enter!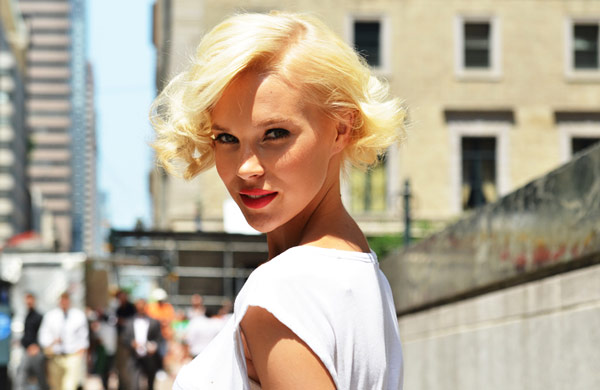 Photo via Jak & Jil
Emotionally, I have moved on from summer. I've decided that summer and I are over and my new love interest is fall, even though it won't begin to cool down in New York for at least another six weeks. Facts don't figure in matters of the heart, after all.
I'm already well into the planning stages for fall clothing and accessory purchases, but this fantastic photo of model Britt Maren by (who else?) Tommy Ton of Jak & Jil has reminded me of a style arena that I've yet to tackle for the new season: Makeup. More specifically, the perfect red lip, which is the subject of this week's Want It Wednesday. (more…)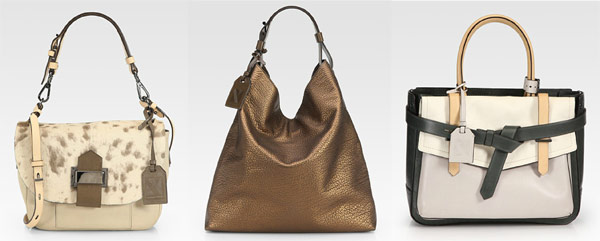 Reed Krakoff Kit Bag, $1390. Reed Krakoff RDK Hobo, $1290. Reed Krakoff Boxer Tote, $990. All via Saks.
Sometimes I feel the need to reiterate this point when I sit down to write yet another post about a brand that I love: Reed Krakoff has never given me a free bag, a discount on a bag or any kind of perk whatsoever in exchange for a post. That kind of thing is rampant in the fashion industry, but neither Megs nor I would ever accept any kind of swag if we were asked to give a brand positive coverage in return, because that's just not how we operate. We have more respect for our readers than that, and we'd never sell you out for a freebie. And it sort of sucks that I even have to say it, but unfortunately, it's not guaranteed in this business.
With that in mind, perhaps Reed Krakoff should be paying me for all the nice things I've said about his company. But alas, he's not. I just really like the bags. Almost all of them, except for a stray stinker here and there, which is a problem for every brand. Saks.com just got a new shipment, and I couldn't pick which one of the bags above to feature, so I thought I'd incude all three. (more…)