It's hard to think of an American accessories brand with as devoted a following as Coach; in fact, the New York-based leathergoods giant might not have any domestic competition in the "ardent fandom" department. Those of you who consider yourself a part of that very large group will be excited to check out the new Coach Chelsea Collection, which features totes, satchels and shoulder bags in a variety of leathers and fabrics. Several more pictures, after the jump. (more…)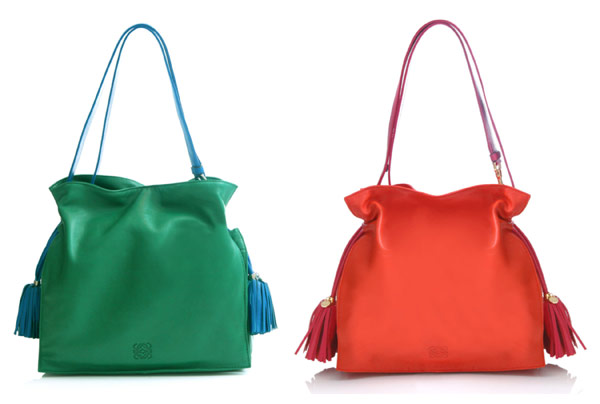 Loewe Flamenco Bag, $1726 via Matches in green and orange
If you've never seen a Loewe (pronounced Low-AY-vay) bag in person and they brand is available in your area, I'd encourage you to seek them out for a test drive around the department store or boutique of your choice. I still can't understand why so many starlets choose to carry the canvas version of the company's Amazona bag; leather is where the bags shine most brightly. And as with all brands that put an emphasis on materials, an in-person viewing is necessary to get the full effect.
Take the Loewe Flamenco Bag, for instance. It looks perfectly lovely in these photos, but a jaunt to Bergdorfs to visit one of its close cousins yesterday afternoon (and to buy the new Chanel Fall 2011 nail polishes) fully fleshed out my sense of the bag. You see that leather? It's amazing. The colors are vibrant. And this design, unlike the tote that I saw from the same line, can be used as either a shoulder bag or a crossbody. (more…)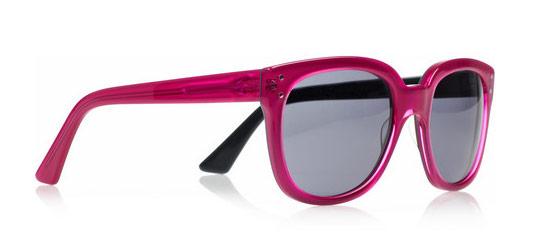 Selima Optique Amanda Sunglasses, $350 via Net-a-Porter.
Somehow, when my name comes up as the moniker for a new handbag or pair of shoes, it's always a piece that I don't like. At all. Something I'd never consider buying and likely wouldn't even wear if it were to find its way to me for free. So you can imagine my delight when I was checking the new arrivals at Net-a-Porter.com this morning and found the Selima Optique Amanda Sunglasses, which I loved even before I realized that the universe had conspired to name them after me. (Ok, they're not named after me at all. Except in my head. In my head, they're definitely named after me.) What better fodder for this week's Want It Wednesday? (more…)

Usually when a Bravolebrity starts a handbag or clothing line of some sort, everyone rolls their eyes and frets about the state of the creative arts. But superstylist Rachel Zoe isn't your average reality TV star; whether you like her personal aesthetic or not, you have to admit that she's beyond brilliant at what she does. So when rumblings were first heard six months ago that Zoe would be releasing her own line of clothing, shoes and accessories, most people reserved judgment until the line had actually surfaced. The verdict? Not bad, Ms. Zoe. Not bad at all. Not revolutionary, but very serviceable.
Now that the pre-orders for the line are available exclusively through NeimanMarcus.com, we can finally get a close look at the bags and handle on the type of prices Zoe hopes to command. As it turns out, the bags are neutral and functional, and the prices fit right in to the contemporary market. We have purchase information and bigger pictures of our favorites after the jump, or you can shop the entire collection via Neiman Marcus. (more…)
A couple of weeks ago, in a blind panic and looking for things to post about during the summer fashion doldrums, I asked my Twitter followers what they'd want to read. Several responded back wanting to hear about beach bags, but with one caveat – they were only interested in non-straw bags because of the hassle of cleaning sand and debris out of a raffia tote.
I've never been much of a beachgoer (and have the pale skin to prove it), so I had never really considered the special accessories challenges that a beach presents rather than, say, a pool or park. But considering how persistent sand is in getting in to our bathing suits, a bag with plenty of crevices for entrance must end up toting home a significant percentage of the beach itself. So if you want to lay out on the shore but keep the sand where it belongs, we've got six ways for you to do just that, all for less than $200. (more…)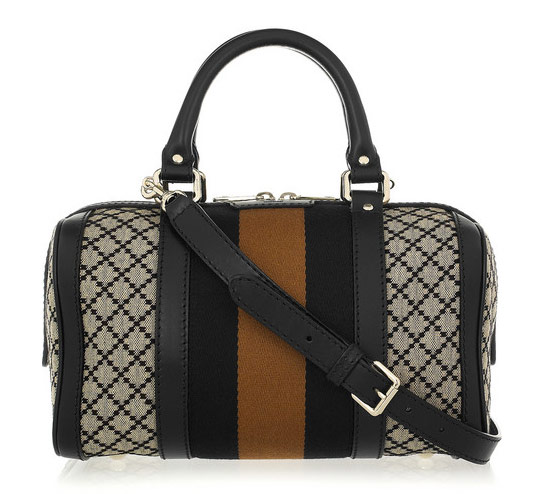 Gucci Boston Canvas Duffle, $960 via Net-a-Porter
I'm sure that we're do for a revival of the logo bag any season now. Fashion's like that; the trends you hate always come back around more quickly than the ones for which you feel genuine nostalgia. Some brands still do a very brisk business in their logo bags; Louis Vuitton has always been at the top of that list, but Gucci isn't far behind. And while it surely makes the company a ton of money and is important for branding purposes, logos have just never been my cup of tea.
But that's why I'm such a big fan of the Gucci Boston Canvas Duffle and bags like it. Gucci occasionally uses this jacquard diamond-check canvas in place of the brand's normal logo fabric, and it is such an improvement in my eyes. This bag looks stately and classic without the unnecessary Gs, and that's exactly the appeal of the non-logo logo. (more…)
There are few things I love more than opening up the ShopBop homepage and seeing that the site has marked down a bunch of new stuff, and that's what happened to me just a few minutes ago. And now I'm here to share the shopping love with you: Tons of new discounts, almost all of them on Spring 2011 shoes, clothes and accessories that can be worn immediately. So what are you waiting for? It's almost lunchtime anyway…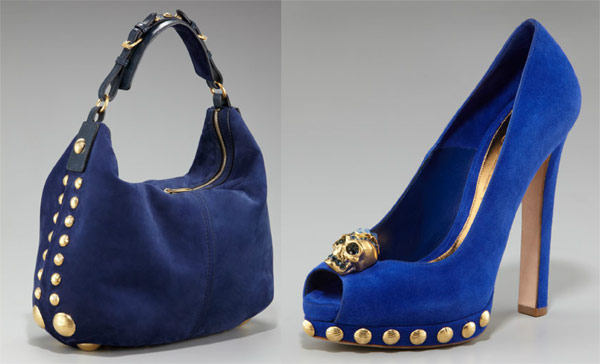 I think of myself as something of a maximalist; the outfits I like the best are often the outfits in which nothing matches and everything stands out on its own. That's also a quick way to look like a complete crackhead, but hey, I bought foot-long neon pink feather earrings yesterday. I got over any self-consciousness or fear of looking silly a long time ago.
Predictably, I am not a shoe-to-purse matcher. Not even close. What's more, the practice of matching all of your accessories to each other strikes me as something that the retail industry cooked up a long time ago as a way to sell more stuff to a single customer. But what about you? My sense of style is hardly monolithic or "correct" in any way. Do you take a more positive approach to matching? Have you ever bought shoes because they were made to match your new bag?
If you like blue suede and matching accessories, the Alexander McQueen Chanter Studded Hobo and Alexander McQueen Skull Platform Pumps might be your speed. You can get them both, for $3150 and $1195 respectively, via Neiman Marcus. (more…)
Photo credit: Jeffrey Westbrook for Harper's Bazaar
I opened up my inbox this morning to find an oddly alluring email about Smurfette wearing designer accessories in new issue of Harper's Bazaar. First off, I had no idea The Smurfs movie was coming out and second off, I find it hilarious to see Smurfette posing with high end designer goods. However, somehow this small blue fictional character pulls off posing and wearing accessories in a rather fashionably comical manner.
From Marc Jacobs to Louis Vuitton to Dolce & Gabbana, Smurfette hits the pages of Harper's Bazaar in accessories any non-fictional female would pine for. (more…)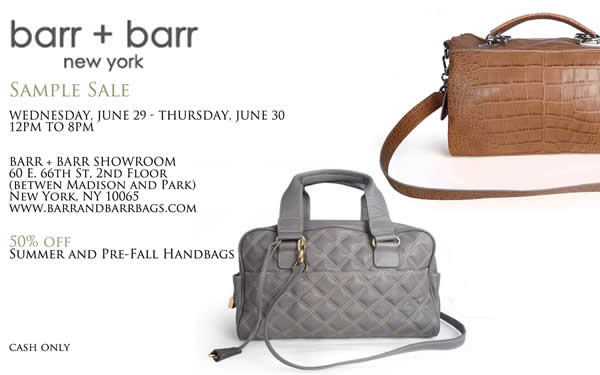 Last week Vlad and I popped into the barr + barr showroom to take a look at their bags. Two things: this is a newer brand to me and this brand produces many designs. I truly enjoy finding new brands (even if just new to me) to share with you all. The designs are functional, many sporting a long shoulder strap, with options that range from every shape and size we have grown accustomed to. (more…)
We've already explored the slightly more, uh, tactile elements of Prada Fall 2011, but what about the everyday bags that the brand does so well, year in and year out? Too many pre-orders have sprung up across the Internet for us to feature them all, but here's a selection of four bags of different styles and leathers that we heartily recommend for purchase in the upcoming months. (more…)