There's no reason to try and put lipstick on a pig, folks: Last night's episode of Real Housewives of New Jersey was boring. Mind-numbingly so, at times. One of the most boring episodes in recent memory. Absolutely nothing of consequence happened except for Teresa trying to use her words and write a letter at the very end of the show.
I understand that even with our New Jersey broads, not every episode can be The Great Christening Smackdown of 2011. I get it! And maybe the network figured that no one would watch on a holiday, so choosing a boring episode that wasn't at all consequential would be the best choice. No reason to waste the good footage on a slow night, I suppose. (more…)
Many of you might not realize that ShopBop continues to work on growing their Designer Boutique. If you did not know that before, you do now. I love everything about ShopBop, from their photos to their offerings to their customer service, and now I love their designer boutique. Designs from Calvin Klein, DSQUARED2, Thakoon, and Derek Lam line their virtual shelves and give us even more eye-candy.
As you continue to enjoy the shopping deals of the season, don't miss out on ShopBop's Designer Boutique Sale!
See by Chloe Stamped Dotty Carmen Satchel, $495 via Neiman Marcus.
At first glance, the See by Chloe Stamped Dotty Carmen Satchel is a pretty nice choice. The leather is neutral and plentiful, the shape is classic and at less than $500, the price is right. But the more I look at it, the more a couple of things about the design are bothering me, and I'm wondering if I'm the only one. (more…)

Diane von Furstenberg Harper Small Tasseled Shoulder Bag, $212 via Net-A-Porter
I am on end of the season sale overload right now. From Net-A-Porter to ShopBop, I am not sure where to start or how to whittle down my list of wants to a somewhat manageable number.
I started quickly browsing all of the bags that landed in the virtual sale racks of NAP. My eyes were drawn to the Diane von Furstenberg Harper in the geometrically color blocking pattern of white, olive, and black. A small bag that packs a fashionable punch, I absolutely adore this little bag. (more…)
It is end of season sale time, which means some of the most amazing items that we all coveted at Net-A-Porter for months are now marked down. And the mark downs are very generous, making this sale one you do not want to miss. There are so many items included that you will need a good hour to sift through and find what you like. So get to it, before everyone else does!
I'll be the first to admit that I appreciate a dose of absurdism in my life. I like weird movies and funny hats and people who wear bowties to daytime events without a note of irony. The weirdness that people bring to everyday life almost always makes me think that humanity might be ok after all, which is probably why the Les Petits Joueurs Mondrian Lego Suede Clutch makes me smile. Except for the price, naturally. (more…)
From left: Mary Y Sol Panama Striped Tote, $100. Club Monaco Tall Straw Tote, $49.50. Elliot Mann 24/7 Tote, $242. All via ShopBop.
In the US, Memorial Day marks the unofficial start of summer and all the beachside fun that comes with the season. The PurseBlog team is going to take most of today to relax and enjoy the advent of season vacation season, but if you're stuck indoors and want some bags to consider, take a look at these three reasonably priced, sun-ready straw totes: The Mar Y Sol Panama Striped Tote, Club Monaco Tall Straw Tote and Elliot Man 24/7 Tote. (Ok, that last one is macrame and not straw. Just go with it.) (more…)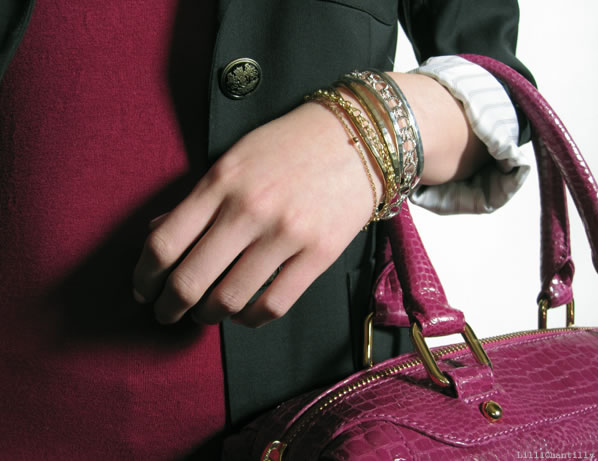 Last week was a combination of many personal problems colliding and we missed out on featuring winners for our weekly Twitter competition. The good news is we are back in action and next week's winners are going to get an amazing prize. That news will follow later!
The winner of this week's #featuremybag on Twitter was @LilliChantilly who showed us many photos of her stunning Rebecca Minkoff Morning After Bag. I was most drawn to the photo that featured the handles and top part of her bag next to all of her bracelets. Click to see the runners up!
If you watched last night's episode of Real Housewives of New York and didn't want to stab every last one of them in the face, except for Alex and maybe (inexplicably?) Kelly, 15 minutes in to the episode, then you're a far more patient person than I am. Ladies, I've figured out why they hate us. Her name is Ramona Singer.
Not that she was the only problem last night. Not by a long shot. In fact, I'm not entirely sure how I'm going to recap what went on. When the episode was over, Megs and I sat in stunned silence, completely unable to think thoughts or feel feelings. Well, other than overwhelming shame and vicarious embarrassment, of course. (more…)
It's rare that I see Kim Kardashian, she of the six-figure Hermes shopping sprees and head-to-toe designer looks, carrying a bag or wearing a pair of shoes that I can't identify immediately. Love her or hate her, Kim's look is one that requires the latest and greatest of everything, and because she's photographed so incessantly, it seems as though designers are more than happy to stock her closet with flashy, expensive things that they hope to see talked about as a result of her patronage.
I'm not sure if that's how Kim ended up carrying the $78 faux leather Olivia + Joy Tycoon Flap Bag or if she saw it in a store and bought it herself like a normal person, but if I were a betting woman, I'd bet it's the former. Either way, it's kind of baffling to see a star who's known for her excessive wardrobe carrying something so inexpensive and accessible. Do you like it when stars mix up their price points, or would you prefer if they stuck to fantasy items so that we can all lust after their collections? More information and a larger picture of the bag can be found after the jump. (more…)