Although much of the United States appears to be dealing with a late-arriving and unwelcome bout of winter weather, that doesn't mean that it will never be warm again. (Or does it? Seriously, I'm starting to wonder.) Eventually, the sun will come out for good, or at least until October, and the temperatures will rise and we'll all pull out the purchases that we've been hoarding for the past few weeks in anticipation of warm weather's return.
With bright solids making up much of the season's clothing trends, there's never been a better time to experiment with accessories – everything from oversized jewelry to embellished shoes looks great against a background of solid color, but obviously, our favorite choice for an off-kilter spring accessory is a patterned bag. I'm not just talking about animal print, either; we've got choices for almost any budget and personal style, ranging from psychedelic flowers to pale abstraction. And, ok, one leopard bag for good measure. (more…)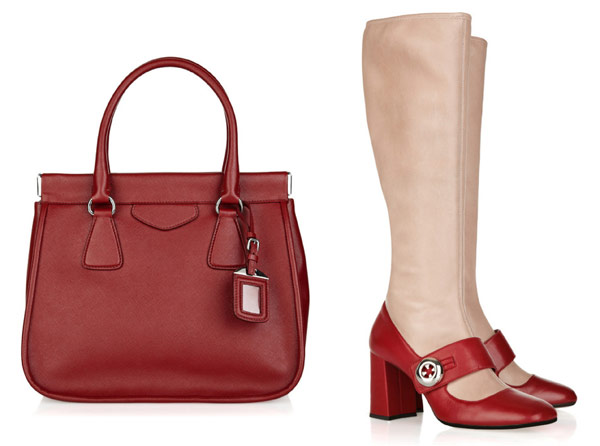 Over dinner a couple of weekends ago, a friend asked me if it ever felt silly to write about fashion in the wake of human and environmental disasters like the recent earthquake and tsunami in Japan. And, truth be told, it can feel a little bit silly at times, just as I imagine most people who work in non-public service jobs feel when confronted with such a devastating world event. Things like fashion churn on nonetheless, and sometimes (although probably not as often as we could), we even find a way to help the planet at large.
Net-a-Porter recently teamed up with Vogue and a slew of amazing designers to coordinate the Runway to Green project, which included a charity auction and fashion show on March 29 and also features a limited edition run of Fall 2011 pieces available on Net-a-Porter.com for a limited time, all of which benefit a number of environmental charities. Our favorite pieces? The Prada Textured Leather Tote and Prada Mary Jane Boots, of course. (more…)
Right now I can not stop crushing on the color yellow. Yellow signifies happiness not only for me but also for the majority of people. With such a bring and fun color, it is hard not to have it put a smile on your face. I've shared some of my yellow handbag picks in the past but I just found the ultimate yellow bag that I am totally wanting. Of course I have the impeccable ability to find the most expensive items everywhere I look, and this Celine bag is no different.
But I will not delve into the price. Ok fine, call me out, I am too scared to call Celine to ask because once they tell me the price I will know for sure I can't buy this bag. Instead, I want to focus on its beauty. I can't imagine anyone looking at the Celine Classic Croco Flap Box Bag and not having some part of them want this bag. (more…)
Last night, after our Real Housewives of Miami had taken their final bows and faded to black, I briefly considered whether or not it would be possible for me to replace my weekly recap with a video of me running them all down with a tank. Because of the logistical issues inherent in securing a tank and rounding up our gaggle of SoFla broads in approximately 12 hours' time, I wasn't about to make that happen, but I hope that you appreciate the sentiment.
Instead, we'll have a plain ol' recap of the show's season (and hopefully series) finale, which was the length of a feature-length film and spanned enough parties and petty tiffs that it likely would have taken up three or four episodes in regular Real Housewives time. In that sense, I guess we can thank Bravo for keeping things mercifully brief. (more…)
Over the weekend we took a trip to Brooklyn to see our favorite Real Housewives of New York couple (look for their feature this Friday on PurseBlog!). After a delightful meet-up, we headed to brunch and then to explore Brooklyn. Here are a few things I learned: spring has only pretended to arrive because I was freezing, Brooklyn is much calmer than Manhattan, and you can see the most amazing views of NYC from Brooklyn. Obviously there is so much more to Brooklyn, but those three things stuck with me the most and clearly the most obvious.
I hopped out of the car to have Vlad snap a photo of me with my black Hermes Birkin. I love this bag. It is the 35cm size so I can really fit a ton of items in there and it the epitome of casual meets chic. This is one of the bags in my collection that works with every outfit and literally can do no fashion wrong. (more…)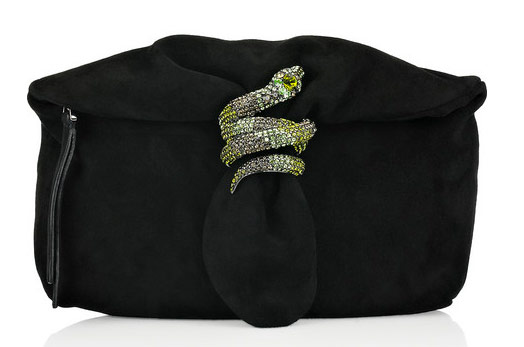 If you spend as much time on the Internet as we do (for your sanity's sake, we hope you don't), you've surely heard that a poisonous cobra has escaped from the Bronx Zoo and is now amusing and terrifying much of New York City. No one has any idea where the snake has crept off to, but now has its own hilarious Twitter account and has taken the place of Charlie Sheen as the Internet meme du jour. The Bronx Zoo cobra is doing all the winning now, Mr. Sheen.
There's only one proper way to celebrate this slithering little wastrel, and no, it's not with a snakeskin handbag. That would probably just upset him, and if you were to come across a poisonous cobra, the last thing you would want to do is hurt his feelings. (Or worse, make him think that you want to catch him and make him into a tasteful evening bag.) No, ladies, you need to immortalize the Bronx Zoo cobra in gemstones with the help of the Jimmy Choo Candice Snake Suede Clutch. I think there's a "snake charming" pun in here somewhere. (more…)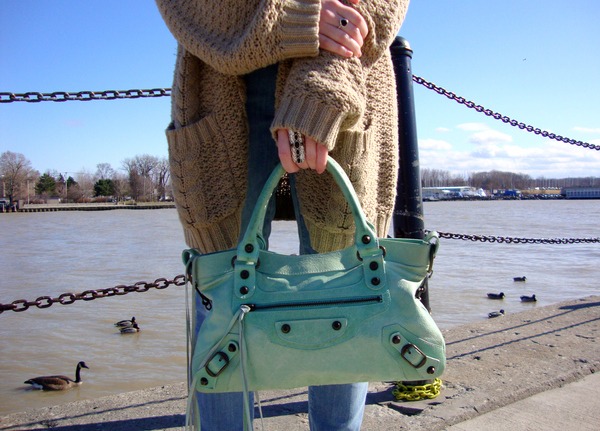 If you follow us on Twitter you know that we started a #featuremybag contest on Monday. I love sharing photos of the bag I am carrying but I am equally as interested in seeing what all of you carry. The first ever winner of our Twitter installment is @Breakfastatsaks who photographed her Balenciaga First.
Right when we saw the picture we could not get enough of the sea foam leather against her thick cable knit sweater and water in the background. Congrats to Ashley for her photo – her image is above and she will win a $25 Amazon gift card. Click to see the runners up!
Is fringe still in? Matthew Williamson thinks so. He also thinks sequined and silk is what it is all about hence he threw them all together on this bag.
I am always looking for something funky that stands apart from the rest and this bag surely does that. But does it do so in a fashion-forward way or as a total miss? Start your Tuesday off with some fill in the blank fun. Buy via NAP for $1995.
Fill in the blank below: The Matthew Williamson Fringed Sequined Silk Bag is _______.
Is it really almost April? You could have fooled me. There was a time earlier this month when it felt like spring was a foregone conclusion and the last gasp of winter chill had passed, but that feeling was wrong. Much of the East Coast has been unseasonably cold for the past few days, and the reality of the weather just doesn't match with the bright, optimistic colors contained in the packages of spring clothing that have been arriving at my doorstep for the past week. Surely this cold snap will pass, and when it does, I want to be ready with a bag like the Felix Rey Sardinia Basket Tote.
I've mentioned my personal rule that prevents me from buying a straw bag that costs more than $200 before, but this bag comes so close to the cutoff line that I think I'll give it a pass. Unless, of course, you guys want to be so kind as to help me hunt down a less expensive version with the same kind of tight, nubby weaving. (more…)
Texture is one of the big fashion words on everyone's lips this year, which means that finding a unique way to incorporate it into your wardrobe is going to be a big challenge in a few months. Most of you seemed a bit tepid toward the prevailing ideas about python and its many uses, and I can't say I blame you – I saw enough snakeskin during the Fall 2011 shows that I'd be perfectly happy if I didn't see it again until 2012.
Thank god, though, that we can always rely on Marni to give us an uncommon take on a common idea. The Marni Studded Leather Shoulder Bag makes a bold texture statement without being a slave to one trend or another, and it does that while being neutral and functional enough to use every day. This bag has enough personality to not appeal to absolutely everyone, but who wants to carry a bag that can be seen on the shoulder of every other woman walking down the street? Certainly not me. (Unless it's a Celine Luggage Tote, of course. Then GIMME GIMME GIMME. Ahem. But that's beside the point!) (more…)