Like pretty much anyone who's gotten the chance to fondle one in person, I'm seriously craving a Celine Classic Box Bag. Not only is the design perfectly edited on the outside, but it's lined in the most deliciously soft and luxurious leather you can imagine, which makes it even more of a delight for the person that owns it than you would expect. The only problem, of course, is that those bags cost nearly four grand. Even I am not that numb to handbag pricing.
Naturally, I've found myself seeking lower-priced alternatives, and the Yves Saint Laurent Chyc Shoulder Bag is one of the better contenders that I've found thus far. Sure, it's missing some of the exquisite touches that I love about the Celine bag, but it also costs several thousand dollars less. (more…)
Pinpointing the beginning of any trend can be a little tricky because most of them have some sort of organic, street-level origin before they were adopted by fashion at large, but I don't think it's too difficult to place most of the credit for the current wave of leopard-love squarely on the shoulders of Louis Vuitton's Stephen Sprouse collection from several seasons ago.
Since then, nearly every brand has created something in leopard print, including the See by Chloe Tieta Carryall that we see here. This particular handbag is more notable, though, because it seems to take its inspiration so squarely from the Sprouse work that Louis Vuitton has made so much money plastering on all manner of leather goods and accessories. (more…)
The Hermes Birkin is synonymous with classic. But what do you think about Hermes' take on the Birkin Club for Spring/Summer 2011? The bag features stripes (some refer to them as racing stripes). Tri-colored, we think the colors are gris, perle and Mykonos blue lizard.
The overall vibe of the Hermes Birkin Club has a younger feel to it – something meant to be seen as more fun, with even a tad of a sporty finish. Do you prefer the classic Birkin or the Birkin Club?
Time for some real talk, y'all: My television froze several times last night during the Real Housewives of Beverly Hills Reunion, including during some parts that I'm sure were quite funny and/or interesting but will sadly not be included in this recap. Them's the breaks when you have Comcast, and I suspect I wasn't the only one having technical difficulties.
But that doesn't mean I can't recap what I did see, which is exactly what I intend to do after the jump. Because this was a reunion with no narrative arc or story to follow, however, this recap is a little different. Instead of a retelling, we're going to cover the ten most interesting things that we learned. Or at least that I learned while my cable was acting right. (more…)
We all make mistakes from time to time. Today I caught a handbag-world mistake from one of our favorite stores, Barneys, in labeling a handbag. The bag is marked as the Lanvin Large Leather Cabas, but this is no Lanvin bag. This bag is in fact a mix between the Proenza Schouler Keep All and Shopping Tote – meaning it is a Proenza Schouler Bag.
More info via Barneys (for $1,990). Just a little Friday Barneys Blooper for you all!
Normally I like Marc by Marc Jacobs bags because the brand tends to take a very traditional or classic idea and put just enough of a spin on it to make it interesting and young without making it too obvious or non-functional, but the Marc by Marc Jacobs Bianca Leather Top Handle has me wondering whether or not it went far enough this time. Does this design look just a little too normal and run-of-the-mill to be a Marc by Marc Jacobs bag to anyone else? (more…)
Any post about Chanel handbags always elicits a fair amount of grumbling from longtime fans of the French brand who feel that its handbags have grown too faddish or lost their traditional Chanel feel, and when you look at the last few collections, perhaps those folks do have a point. If you're among them, though, I'd heartily advise you to take a look through Chanel Spring 2011 Pre-Collection Handbags, which contains less handbag gimmickry than most of us have grown accustomed to from Lagerfeld & Co. If these bags are an indication of what's to come for spring, I bet I'll know a lot of happy Chanel fans. (more…)
Well this is an unexpected design from Balenciaga. I am so accustomed to seeing their motorcycle bags that seeing a suede open tote with alphabet embellishments takes me completely off guard. There is black, white, and beige versions available of the Balenciaga Alphabet Tote. Buy via Barneys for $1,795.
Fill in the blank in the comments section below: The Balenciaga Alphabet Tote is ___________.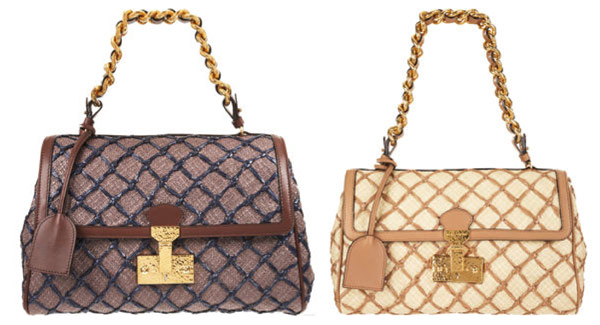 One of the biggest developments in handbag trends over the past few seasons has been the return of the reasonably sized handbag, called the "lady-scale" bag by some, in reference to the refined women who once carries purses of a similar size. Marc Jacobs was a major producer of giant, shoulder-aching handbags back when they were having their moment in the sun, but now that the entire spectrum of possible sizes is available retail, he's downsized a bit with the Marc Jacobs Baroque Ingrid and the slightly more petite Marc Jacobs Baroque Faye. The big question, of course, is do you like them? (more…)
A few evenings ago, I found myself in an interesting discussion on PurseForum started by a person wondering how often others are complimented by strangers. The incidence at which one is approached probably varies widely depending on the city you live in, lifestyle you have and general vibe that you give off, but I can't help but assume that most people have at least one or two items in their closets that are sure to get a response.
Lately, it's my Miu Miu studded loafers, as pictured at left. No matter where I'm going or what I'm doing, someone always asks about them, which is a pleasant surprise since I bought them assuming that half the people I encountered would think I was crazy. Last summer, it was my bright yellow Botkier Trigger Bag that made everyone ask where they could find one of their own. I've always been that person who strangers love to talk to (I must have one of those faces or something), but a good handbag or piece of jewelry can turn anyone into That Girl. So what in your wardrobe turns others' heads and compels them to break all sorts of social norms by randomly approaching you? Let us know in the comments.