Clearly, accessories designers at Tod's have not set out to reinvent the wheel. They're very happy with the handbag as we know it, and their designs celebrate the essential need that we all have to carry our belongings, combined with our desire to do so with a beautiful sartorial object.
The Tod's Ivy Sacca Media Shoulder Bag is just that – a beautiful, simple object that performs its essential function without fuss or bother. For those who love Hermes but simply cannot afford to spend Hermes prices, a Tod's bag like this one is perhaps the best alternative on the luxury mass-market. (more…)
Normally I don't have any problem accurately identifying materials in person, particularly when those materials are commonly used for handbags. It's my job, after all, and I've manhandled a lot of purses in my life. When I saw this version of the Treesje Bare Revealed Satchel in person a few weeks ago, however, I would have sworn to anyone who asked that it was made of very, very soft sueded canvas or linen. When I saw how much it cost, I put the bag right back on the shelf, assuming that the price was too high for a non-leather bag.
As it turns out, that's not quite right. (more…)
This bag doesn't need much of an explanation. The Chanel Paillette Flap Bag is from the brand's Paris-Shanghai (Pre-Fall) 2010 collection, and it'll set you back a cool $6000.
Picture via Chanel.com. To inquire about purchase, please contact Chanel at (800)550-0005.
I hate to be an optimist when it comes to the brand that we all know I love to hate, but Juicy Couture seems to have turned out fewer handbag crimes against humanity lately. Is it just me, or is the brand turning over a new leaf? By virtue of even writing this, am I somehow guaranteeing that the next handbag I see from the brand will be atrocious? Probably.
But for now, the Juicy Couture Brogue Duchess Bag is decidedly non-atrocious. For once, Juicy's designers picked textural elements that all manage to work together in piecemeal harmony. (more…)
I grew up mostly living in parts of Florida. We may get a winter 'chill', but it is clearly nothing like a true northern winter. So when I choose The Ohio State University as my college of choice, I had no idea what I was in for. Note to any warm weather climate person about to embark on college somewhere with a true winter: anything you thought would be a winter jacket is not. You should have seen the 'jackets' I bought for the cold weather. They were glorified wind-breakers that kept me literally freezing. I did not understand what nature had in store for me. One of the coats I distinctly remember buying was actually rather ghastly to look at. And it also did not keep me warm enough (it was cheap). It was made with shearling.
Unfortunately for Prada, the Prada Shearling Hobo does nothing other than remind me of the shearling coat I owned in college. And that is not speaking in Prada's favor. (more…)
I'm normally an ardent and vocal Marc by Marc Jacobs fangirl, as many of my previous posts on the brand prove. Lately, though, the brand's bags are almost entirely missing the mark (or the Marc, as it were) for me.
When I saw the Marc by Marc Jacobs Fantastical Perfect Purse, my first instinct was to roll my eyes. I've been ok with Jacobs's use of embossed initials in the past, but when you add things like spades and clubs into the mix, the effect gets cheap and silly very quickly. (more…)
It's so rare that Nancy Gonzalez makes a misstep. Her handbags may not be revolutionary, but it's nearly impossible to go wrong with exotic materials, beautiful colors and simple shapes. It appears as though she has handbag design nearly down to a science.
The Nancy Gonzalez Hand-Held Croc Clutch is merely the most recent in a long line of sartorial successes from the brand, and as always, I'm drooling over it. Bicolor bag design is difficult to do well (as we're also discussing over at PurseBlog Savvy currently), but I have absolutely no complaints about this clutch. Well, other than the fact that it isn't in my closet, of course. (more…)
A bicolor bag of significant size is a legitimately difficult thing to design well. Since the interplay between the colors is usually the main event, choosing the shades and how they'll be placed is crucial and often makes or breaks a design. Most designers simply don't manage to do it very well.
The Kooba Kelsi Satchel is the rare example of when two colors combine to create a very attractive bag. The lighter and darker shades of red are combined in a way that sort of reminds me of a 50s diner – whether you think that's a good or bad thing will depend on your personal taste. (more…)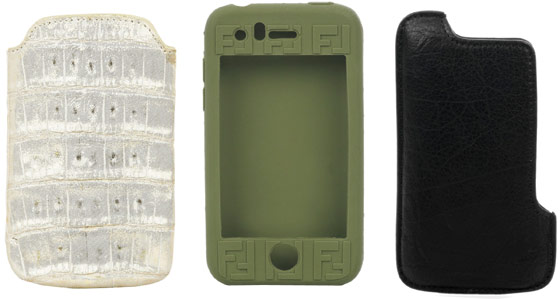 Not long after the annual summer release of a new iPhone comes an inevitable parade of ways to personalize and protect your new gadget. Those options range from rubber cases that can be had for $19.99 at your local Best Buy to Louis Vuitton monogram sheaths that cost more than the phone itself (with a two-year contract, of course), and the prospect of choosing one can be quite the task indeed for style-conscious gadget-lovers.
Since it seems as though the iPhone 4 is making a case more of a necessity than ever, now is a good a time as any to talk about the odd submarket that has opened up for designer tech accessories. Would you spend a couple hundred bucks on a case for your phone, or are such things absolutely frivolous in your mind? (more…)
Ok Stella McCartney, I find it completely noble that you choose not to use animal products. I do. And some of your bags are quite lovely. But the prices are exorbitantly high and I simply cannot find myself ever feeling like buying one. Does that mean I would never buy an eco-friendly bag? No. But I feel like Matt & Nat is more of my aesthetic than what Stella McCartney is putting out there.
However, I will say that if you are not keen on actual python skin, you should check out the Stella McCartney Python Print Tote (and tell me what you think below). (more…)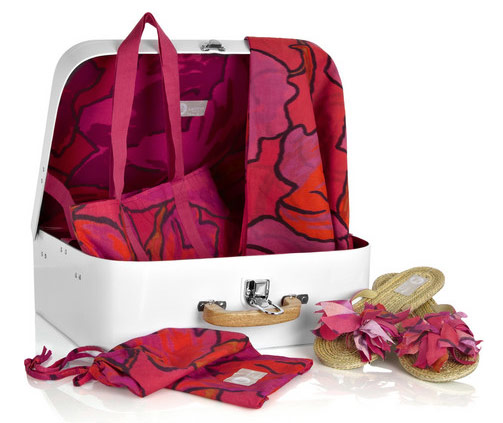 Megs and Vlad got back yesterday from a trip to the Bahamas, and I couldn't be more jealous of them if I tried. I just got done moving, and there's nothing I would love more than to spend a couple of days staring at the ocean in a rum punch stupor. Someone has to hold down the handbag fort, though, so here I am.
Instead of going on vacation, I'm just going to fantasize about toting the Lanvin Suitcase Honeymoon Set to an exotic locale with a hot man in tow. That's a suitable alternative to actually taking a trip, right? (more…)