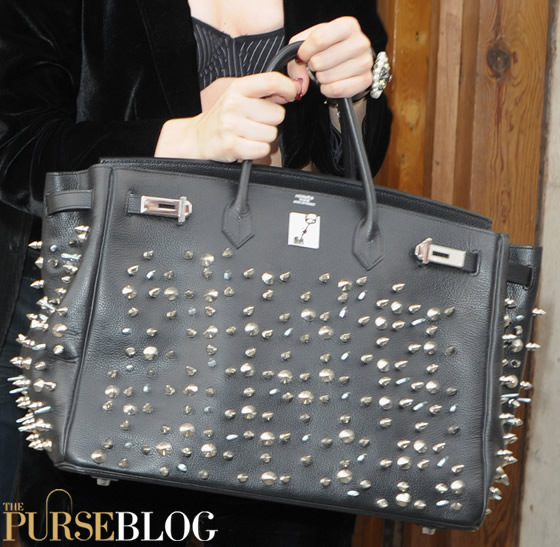 I have decided that Lady Gaga performs makeovers on her Hermes Birkins just for us. She wants the handbag lovers of the world to get a rise out of what she is doing to her bag. And how can you not? Her last Hermes Birkin was taken over by what looked like a Sharpie marker with a message to her Japanese fans.
This Birkin has been taken over with studs, and not just any studs, seemingly sharp studs. The kind of studs that can poke you and get an "Ouch" reaction from your mouth. And when you inspect the bag closely, they are not perfectly set apart, rather tried to be somewhat in pattern but it is a bit of a free-form design. (more…)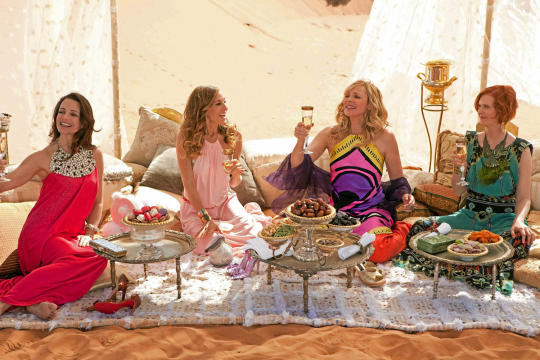 If you have the ability to read, a functioning internet connection and at least a passing interest in female-focused pop culture, you've probably read some truly and utterly scathing reviews of Sex and the City 2. I certainly did before going to see it with my best girlfriend on Saturday night, and when you combine their description of the movie with the residual anger that I'm still having over how face-numbingly awful the first SATC movie was, my expectations were so low as to be almost nonexistent.
And then, a weird thing happened: I sorta liked it. I grinned for almost the entire two-and-a-half hours, laughed out loud on more than a few occasions, and may or may not have gasped something along the lines of "OH MY GOD IT'S THE DIOR NEWSPRINT DRESS" loud enough for several rows of women to turn around and look at me, even though I already knew that particular item was going to be in the film. And it all made me wonder – what were all of those critics so angry about anyway?
Don't worry, there won't be any spoilers in my review. I promise. (more…)
And so, it was over. Not the season, I mean. That's not over until next week. Just the good part of the season.
In the conclusion of Real Housewives of New York City's three-episode insanity tour of Shutter Island St. John, things became somewhat less insane, and it was sort of sad (the reduction in insanity, not the episode itself). We knew that this storied period in Housewives history had to end, but that doesn't mean that any of us wanted to see it go. Except for Kelly Bensimon, of course. And probably Jill. (more…)
I am sure some of you might actually read this after Memorial Day Weekend. There are so many of us who love to tag an extra vacation day onto a 3-day weekend making it that much sweeter. But, for those of you who haven't already started your trek to the beach or a mountain cabin, I might have found something that you might like to take with you this weekend. J. Crew is always a great place to check out for fun summer totes and they've not failed us this season either. (more…)
Tory Burch has really hit her handbag stride, hasn't she? It wasn't long ago that we were criticizing the company for its liberal use of logos and preponderance of canvas totes, but now the line is full of beautiful leather bags at very reasonable prices. It's no coincidence that the last time I went into one of Burch's stores, it was so packed with customers that I could barely move around.
The Tory Burch Louisa Tote is just the latest in a string of handbag successes for the brand. It uses the same kind of flat chain handle as the Tory Burch Louis Crossbody Bag, but this design is even better because it will likely work for even more women.
Proenza Schouler may still be a relatively small company, but their clothes and accessories are making some enormous waves. I could wax poetic for paragraph upon paragraph about how much I love the acid yellow and black tie-dye that they did for Spring/Summer 2010, but I'm going to try very hard to stay on topic in this post. Bear with me.
Proenza Schouler just released images of their Pre Fall 2010 accessories on their website on Wednesday, and I'm kind of in love. My favorite is the black PS1 Tote that you see to the right, but the leather take on a brown grocery bag is pretty clever as well. The line also includes an alpine knit PS1 Clutch, which mirrors several sweaters from the brand's Pre-Fall Ready-to-Wear collection. Pictures of all three bags are after the jump – which is your favorite? (more…)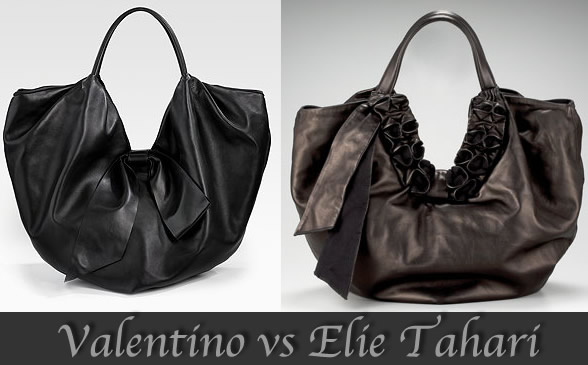 You know why I love finding handbag looks for less? Sometimes it is the less expensive bag that catches my attention and that is a double wow. I can't say that with today's Look for Less though. Valentino is a handbag favorite on the PurseBlog team. If you see their bags in person, it is easy to see why. The designs are feminine, sexy, and luxurious.
One of my favorite designs from Valentino lately is their 360 Handbag, which features feminine touches on a large slouchy body. But at $1,400, it is not the most affordable bag. And that is why I have found a look for less with the Elie Tahari Pebbled Melrose Tote. (more…)
Every handbag lover out there has a different taste. While this means so many of us can be on complete opposite ends of the interest spectrum, it means that designers are pushed to create a plethora of designs for us. So, no matter what you like, we all win!
And as someone who spends more hours than most staring and evaluating handbags, I can appreciate the quality of a bag even if I would never be caught dead carrying it myself. However, there are times, when for the life of me, I cannot decide if I like a bag or not. This Versace bag fits that category perfectly. (more…)
Ok, so if you are reading this, chances are you do a lot of reading online. I certainly do. However, I am still one of those people who absolutely loves to curl up on the couch with a cup of coffee (or glass of wine, depending on the time of day) and pick up a magazine or newspaper to read. There is something almost therapeutic about flipping pages, sipping on my drink and taking everything in. It can be a little more slow paced than reading online which at times is nice.
So, just the other day, while I was doing just this, I came across some beautiful tribal inspired bikinis. I loved the colors and patterns. The look was so different from what you normally see on any given beach. Needless to say, I was a bit inspired. No sooner did I get over this than I came across this brightly colored cosmetic bag. (more…)
Well. That was quick.
We found out quite a while back that Marchesa was going to debut a line of clutches to compliment their gorgeous, highly detailed evening dresses, and since then we've seen no shortage of celebs toting them down red carpets from New York to Los Angeles. Finally, yesterday morning, they were available online! And then they weren't. The recession might just be over, folks: the bags, priced $2274-$3475, sold out in a matter of hours. Pictures of all the bags you can't currently buy (but maybe soon!), after the jump. (more…)
Oh, Alexander Wang. How I love thee, let me count the ways. Ok, so, I'm not literally going to count them – not only would that take too long, but it would be kind of boring. Let's suffice it to say that I really love Wang's aesthetic, even when I'm not sure that I love a particular bag. Luckily, the Alexander Wang Jena Clutch doesn't give me any deep internal conflict.
Nope! I'm sure that this clutch is in my future. Not only does it have the brand's signature pebbled black leather, but it's a perfect size and shape for a take-anywhere black clutch. If you like a little bit of edge in your bags, then welcome to your new nighttime staple. (more…)