Marc by Marc Jacobs Party Girl Heart Appliqué Clutch, I can appreciate it's appealing kitsch.
I am not a party girl. Far from it, in fact. I'd much rather stay in, and if I must go to a fiesta, I prefer it to be of the fancy, not-many-people-type. Why? So I can dress up, of course. At my core, I love a good party dress, especially those with flouncy skirts. So while I may not be the girl Mr. Jacobs had in mind for this
Furthermore, the bag is in my favorite color, purple, making my eye run straight to it with only the slightest of reservations. That appealing kitsch is exactly what makes me slightly apprehensive of the clutch. You see, I'm not the biggest proponent of hearts. Smiley faces, small animals, and peace signs I like (especially on Marc by Marc Jacobs pieces), but hearts I barely tolerate on my own clothing. But as I said before, I still appreciate the bag, I'm just not sure if I'd wear it. (more…)
Fendi Peekaboo Bicolor Top Handle is here!
It's here, it's here! YAAAAY! The
We first saw this bag as a highlight of Fendi's Spring 2010 runway show in Milan, and now it's finally available for purchase. The gears of fashion grind slowly at times, but it's always exciting to see things land at retail that you first noticed during their initial public appearance.
So does the final product lead up to the promise? (more…)
I've used my time visiting my parents over the past week or so check out a sampling of the best malls in Atlanta, and it seems like everywhere I went, I saw the entire Marc by Marc Jacobs Petal to the Metal line sitting on shelves and hanging on racks, just waiting for people to scoop it up. Unfortunately, the Marc by Marc Jacobs Petal to the Metal Benny Satchel was easily my least favorite. (more…)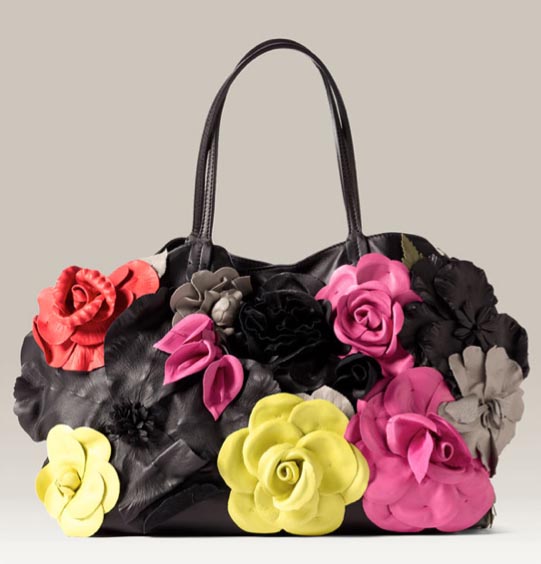 I've said it before and I'll say it again: Whether you like their bags or not, Valentino does the best detail work in the business. There's not a major designer that can touch them when it comes to taking regular (albeit extremely supple and wonderful) leather and turning it into something that is far more than the sum of its parts. Behold: the Valentino Fleurs Couture Tote. (more…)
I don't think that I exactly like the Diane Von Furstenberg Hayworth Clutch, really, but I've got to say that I respect its enthusiasm. Is that sort of similar to liking it? Maybe. (more…)
Diane von Furstenberg bags as of late, that I find myself EXPECTING to love the next one I see. However, not to be harsh, this one looks like something I made back in my Girl Scout days. While I want to like this bag, I can't get over what you would have to pay for what you are actually going to get. (more…)
There is one word to describe how I feel about this bag: conflicted. I've been loving so many
Ladies and gentlemen, we are just days away from 2010. Can you believe it? I remember being younger and never quite understanding adults saying "Where has this year gone?", yet now that I am, I guess an adult, I get it. It's as if you blink and half the year is gone. But that's really neither here nor there. With New Year's Eve right around the corner, I try to mentally plan what I am going to wear and carry. When it comes to New Year's Eve, I want a shiny, noticeable and gorgeous handbag in my hand. (more…)
Valentino using a bow with their handbag design. In fact, I am not finding fault with the bow design, in fact, I am quite a fan of it. However, I actually didn't even see the bow at first with this bag. Instead I was a tad overwhelmed with all of the studding. We've gone back and forth for months now about the use of studding on handbags. Yet, this is the first one that actually stands up and says, "love me or hate me, you WILL notice me". (more…)
This is not the first time we are seeing
I can say with all certainty that I have never been a fan of bags that are boring, and I'm sure many of you would say the same. But how exactly does a handbag cross into the doldrums? It's the Cole Haan Marabelle Double Flap Leather Bag that prodded me to ask such questions.
At first glance, this Cole Haan seemed so blah, like a complete miss. But on closer inspection, there are actually some aspects of the bag that I quite like- but there is still something about this bag that makes is not quite cute, trendy, or even elegant. The shape I like, as I do the long strap which is just a tad thicker than the norm. (more…)
We've brought you other incarnations of Marc by Marc Jacobs Petal to the Metal bags: the Evie Hobo, the Flap Pouchette, and the Sasha Shoulder Bag. Whether you have any of those bags or not, the Marc by Marc Jacobs Petal to the Metal Key Pouch is simple, cute, and showcases that adorable little dove.
If there's one thing that makes me smile a bit on the inside, it's a wallet or pouch that matches my bag- and this little pouch provides the perfect opportunity to do so if you own any of the previous bags. And let's not miss the logo lettering that makes up the eye of the bird- simple yet sophisticated and understated. (more…)