Kooba! As I've followed Kooba over the years, I am able to pick out on of the bags from a mile away. However, this is a bag I never would have thought of as a Kooba. Furthermore, as crossbody handbags continue to grow on me, this is one that I can appreciate even more than I would have a year ago. (more…)
Hello,
Here at Purse Blog our yearning for more supple leather almost always leads us to Bottega Veneta. We adore the understated simplicity of the designs and can not get enough of the super soft and luxurious leather. When our bank accounts grow to exorbitant levels, we will have our office and homes decked out in Bottega Veneta leather. That is how much we love it.
If you are looking for the most classic design from Bottega Veneta you need to check out the Bottega Veneta Maxi Veneta Hobo. The Veneta is the house staple, a chic hobo that brings together a simple yet timeless look with buttery soft woven leather. Intrecciato, the technique of weaving the leather, is synonymous with the brand. (more…)
Jack Rabbit The Bandit Studded Leather Crossbody Bag, and, in true Jack Rabbit style, it's taking what we know, mixing it up, and adding on some sprinkles. In other words, it's similar to what we know the crossbody to be, but it's also quite distinctive. (more…)
Now here's an interesting one. A curiosity for the eyes, some would say. It's the
I'm underwhelmed, and I hate being underwhelmed. I'm not a huge fan of Prada's Fall 2009 offerings, and I'm even less of a fan of Prada Spring 2010. So much so that it kind of makes my head hurt.
Memo to the fashion industry: no one wants clear vinyl bags. No one. You guys tried this crap a few seasons ago and thought it would be cute, and they all ended up on the sale rack at the end of the season, and they didn't even move particularly quickly once discounted. A clear, architectural hard plastic clutch meant to hold three things for a night out, a la Fendi's Spring 2010 presentation? That's clear done well.
But a vinyl gray-tinted clear satchel meant to hold the dreck of everyday life, like tampons and your ATM receipts? No thanks. Do not want. Ever. But that, with some jewels stuck to the top and a canvas tote or two thrown in for good measure, is basically what we got. Since Prada does such a big bag collection for every season, this is probably only the tip of the iceberg and several other non-runway mini lines will eventually surface, but if this is any indication of what's to come, I'll take a pass. (more…)
I know we've covered the Diane Von Furstenberg Stephanie Hobo ad nauseum, but it's one of few bags that EVERYONE on the PurseBlog team can agree on loving, so we get a little excited when a new version of the bag surfaces.
This is the first we've seen of the metallic black, and I love it. It's got just enough silver woven in to highlight the amazing woven texture that looks like leather chain mail, and we all know that black and silver is a key combination to go with a lot of fall's clothing trends. Plus, for such an It Bag, the price is within reach. If you haven't found the version of the Stephanie for you yet, then maybe this is the one. Buy through ShopBop for $875.
Sometimes, you have to judge a bag based on the context of the brand that makes it. A bag that might be a strong effort from one brand might look like a failure from a brand that usually make gorgeous stuff and, you know, not everyone can be one of the cool kids, in high school or in handbags.
Which is why I have nice things to say about the Juicy Couture Rule Breaker Tote – it's not a great bag, but it's a solid effort from the usually heavy-handed designers at Juicy Couture. (more…)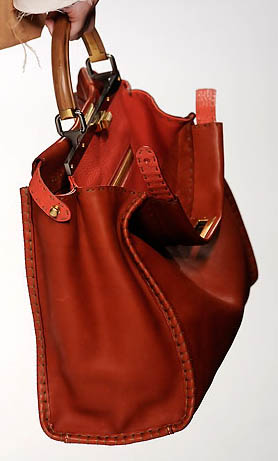 The Fendi Spring 2010 Handbags Collection is the very definition of a "mixed bag." Har har, bag pun. I know, it was bad. I'll stop.
Anyway, yes, the bags! Some were amazing – the new soft leather Peekaboos with wood or clear plastic handles were among my favorites, and the addition of exposed stitching, combined with the different handle textures, gives the shape a sense of style that it was missing in its more staid initial iterations. The bags look touchable and a bit vintage, just like the rest of Karl Lagerfeld's breezy, Parisian collection for the brand.
Other standouts were the Perspex beveled clutches, some completely clear, others with slight tints or exterior studding. The bags were, of course, shown with nothing inside of them, and putting anything in them would be kind of a shame, but how else are you supposed to carry them? They were beautiful and a tad whimsical as art objects, and if the stuff you carry inside your clutches is very beautiful, they might be a workable choice.
And on the other hand, some things just didn't work at all. We saw leather totes in a variety of colors with an odd, pansy-embroidered snap-on linen cover that was not only puzzling but also not particularly attractive, and Fendi would have done well to omit those completely and add more of the delicious Peekaboo styles, along with a few of the other wood-framed clutches and bags, to the collection instead. They were almost distractingly bad, but ultimately the preponderance of beautiful bags won out. (more…)
Today, Vlad and I took a trip to Jungle Island off of Miami Beach. There we mingled with our friends; the colorful, loud, and beautiful parrots. Our friend, Sky the Macaw, was chatting with me about my Gerard Darel Midday Midnight Hobo. (more…)
Emanuel Ungaro Studded Leather Clutch for over a week now. Net-a-Porter is one of my favorite sites to peruse. I love all of the amazing designer bags that the site consistently has in stock. Oh, and when I say "has in stock" I really mean tempt me to the point of Carrie Bradshaw spontaneous shopping sprees. Anyways, this clutch has got me all twisted around and I cannot decide if it is an edgy unique hit or a disastrous miss. (more…)
Get ready to vote! I've been hung up on the
Cole Haan Ruched Leather Satchel look a good bit more polished and sophisticated than your average sub-$400 bag?
Is it just me, or does the
It doesn't have a great deal of personality, but it does have a rather clean, simple look to it that I think a lot of women would find attractive, but it's not too rigid and stuffy to be usable outside of an office setting. I'm pleased. Are you? (more…)