Hey you guys, come look at this – I may have found the prettiest straw bag I could ever hope to find. You see, "pretty" isn't really a term that's often used to describe straw bags – they're mostly functional and fun purses that serve their purpose for a few months and are replaced the next time warm weather rolls around. I'd want to be very careful with the Felix Rey Antigua Straw Tote, though, since it's far from your average beach bag. The first thing that struck me was the color – who ever sees one in such a sophisticated shade of grey? Usually if straw bags have any color, it's some sort of orange or pink that clearly indicates that it is not a bag to be taken seriously. This bag, though, is different. It has contrasting straw trim with wooden beadwork on the front, and the side gussets are covered in rouched grey silk. The handles are leather, which is great – anyone who's ever had a bag with straw handles knows how quickly those tend to look worn and dirty. The overall impression that this bag gives off is sophisticated and grown-up; it's a summer bag for a woman that knows her personal style and knows how to implement it in her everyday life. Not only that, but it's priced right for the material – $150 is very reasonable for how beautiful it is. Buy through ShopBop for $150.
As much as we love the established designers with their signature handbags, we get giddy for new designers offering handbags that we must have. It does not happen often that there is a bag that I see that I absolutely MUST HAVE. I can rave about specific bags and even profess my love, but if I am not out buying them up, they are not on the same level. Recently, I had to have the latest DvF Bag, and I went out and bought it. Of course there are pricing restrictions, but once you catch me raving incessantly, that is most likely a bag that will be added to my collection.
There are parts of the Sonia Rykiel Emma Crystal-Embellished Tote that I like, and then there are the parts that I don't. I usually have a bit of both with all the bags that I review, but the dichotomy between what I love and what I hate with this one is so huge that I've got to split this one in to two parts. First, the things I like. I like the shape of the bag. An easy-to-carry satchel that's not too big or too small. It's got a frame up top to give it some structure, but it still doesn't look like it would be too heavy. The color is nice – not too light or pink that it looks like a pastel, but still light enough to be an interesting neutral. The leather looks soft. I like the closure.


And now, what I don't like. Care to guess? All the crap stuck on the front. I can kind of see where they're going with it, but I don't think they quite got there. Maybe the crystals and studs vary too greatly in size and shape, I'm not sure, but I don't like the end result. It looks a little too craft-project for me, and I know Sonia Rykiel likes to do her own thing with the adornment of her bags, but this just isn't quite right. Also, the handles are too long. But mostly it's the art store bedazzling on the front. Buy through Net-a-Porter for $2450.
Girls, I know I'm not going to be popular for this one. I'm probably not going to gain any respect from any of you for my opinion on the Marc Jacobs Iconic Glitter Robert. Am I ok with that? I think so. And I'm going to have to be ok with it, because I can't seem to do anything but smile every time I look at this bag.
Is it practical in any way? No, it probably weighs a ton and it's ginormous. Would I buy it? Highly unlikely, particularly for that price. Do I have anything to wear it with (or to)? No, not that I can think of. So why do I like it so much? That's what I'm trying to figure out. I have always liked the concept of these bags; purses, in reality, are nothing but big pockets that we carry around with us, and having the front pocket of a bag be another purse is a cute play on the normal construction that we all know so well. I particularly like this version because of the combination of materials – the back bag is leather, the front bag is suede, and it's then covered in Swarovski crystals. A surprising number of you guys liked the Marc Jacobs Jeweled Stam that we talked about previously, and I like the black version with grey crystals even more. This is probably one of those bags that functions better as a concept than something to actually use, but I continue to applaud Marc Jacobs for doing something innovative with these. Buy through eLuxury for $2650.
Megs with Ferragamo. Stunning couple.
Buy the Salvatore Ferragamo Convertible Satchel via Saks for $1890.
In my opinion, the Burberry Westcott Shoulder Bag is a very clear case of a bag that looks much better in person than it does online. This is the best picture I could find to see the immense detail of the bag's construction, but it still looks stiff and kind of messy, don't you think? In reality, it's anything but. The neat rows of buttery soft leather ruffles are cropped close enough to the bag to not look silly, but still long enough to give the bag tons of texture that makes it much more than just another black leather hobo.
The leather that makes up the base of the bag is just as soft as that that makes up the ruffle decoration, which gives the bag a slouch that would probably break in even more with a bit of use. The strap was plenty long to carry the hobo easily and it also has an extra crossbody strap, if that's your think. The bag is big but not oversized, and still muted enough, with ruffles and all, to use as an everyday bag that could be carried to work. On the whole, I think Burberry did a beautiful job with this bag, and it's really too bad that it doesn't show up well in photos. This is definitely a bag you need to see to appreciate. Buy through Net-a-Porter for $2195.
Sometimes I see a bag and it takes me forever to figure out what it reminds me of. Is it another bag? An inanimate object? Someone I know? It can be hard to put your finger on it when you see so many bags every day. I knew what the CC Sky Mimi Bag looked like as soon as I saw it, though: the Miu Miu Bow Bag. The handle structure is similar, and most strikingly, the way that the zipper closure folds forward to create a more streamlined satchel shape.
The CC Skye version doesn't have the bows, obviously, and I think it's a very attractive bag in its own right. The leather looks matte and thick, and I was undecided about the whip-stitching at first, but it's grown on me as I look at the bag. It's a bit of a handmade effect without making the bag look like a craft project, which is a line that's exceptionally hard to walk. I'm still a bit put off by its structural similarities to the Bow Bag, particularly since that's a purse that's been very popular, but the price of this one is making me look the other way, comparatively. Buy through Singer22 for $625.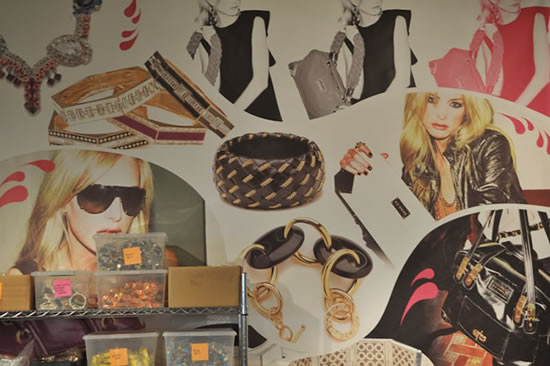 What comes to your mind when you think of LA? Celebs? Hot clubs? Posh restaurants? Fashion? Beach? No matter what you think of, what you should add to your list of LA-isms is emerging designers. As I already mentioned, toward the end of last year I had a chance to meet with some amazing LA based designers. And you know what, each one has their own sense of LA, their own sense of fashion yet all seem very LA to me. I was really looking forward to the interview I had scheduled with CC Skye.
I had been following her designs for quite some time and couldn't wait to meet the designer behind the amazing and cutting edge accessory and handbag brand. I knew the interview would go well because the office was just a 5 minute drive from my hotel in Santa Monica (GORGEOUS!!!). Although navigating through the LA traffic was becoming no big deal, the short drive put my mind at ease.
Click here to read on!
Believe it or not, Pursebloggers, there are some circumstances under which I would be ok with the Zimmerman Stud Bag. I know, I know, it's hard to believe, because it's pretty much a monstrosity as it is. I have two main problems with it that, if remedied, would make it a completely respectable bag. First of all, the tie-dye lining that shows through. I'm not sure why everyone suddenly decided that we needed tie-dye bags, but I really don't think it's necessary. Or attractive. In any way. It's a fad that needs to to go back to the annals of history where it came from and stay there; it doesn't need to be revisited.
If this bag had a white canvas lining (or maybe even some kind of grey), it would highlight the industrial quality of the exterior shell better. Industrial mixed with hippie doesn't so much do it for me, you know? Also, I wish the bottom was more squared – the roundness competes with the grid-like structure of the exterior leather, and I think something a bit more corner-y would be appropriate. I like the concept of the leather latticework with the studs, because as always, I like things with a punky edge. This one just misses the mark. Buy through ShopBop for $350.
For some reason, I've repeatedly scrolled past the Tila March Zelig Large Canvas Tote on Net-a-Porter when looking for bags to share with you guys. I'm not sure why – maybe because it's not exotic and showy? Not blinged-out enough? Who knows. What I do know, though, is that I took a good look at it for the first time today and I actually quite like it. The juxtaposition of the crisp white trim with the reddish-orange canvas is streamlined while still being a throwback to retro beach style; I could see a stylish women carrying something similar to the beach in the 1960s. Because of the simplicity and functionality of the bag, though, I think it does a good job of being retro without looking dated. It also looks like it would perform it's assigned task quite well – the top opens super wide to reveal an interior lined in white fabric, making it easy to spot your belonging (and those pesky sunglasses that fall to the bottom) inside. Overall, if I had the extra scratch, I'd love to have one of these to take with me to the pool or beach this summer. Buy through Net-a-Porter for $470.
We've brought you several amazing handbag deals from Ideeli and today we have another. Head over to Ideeli to check out how you can score a new Escada handbag at up to 68% off! Click here to shop and save!